AN INSIDE LOOK AT A PROPERTY MANAGEMENT INTERNSHIP
Date posted
November 15, 2021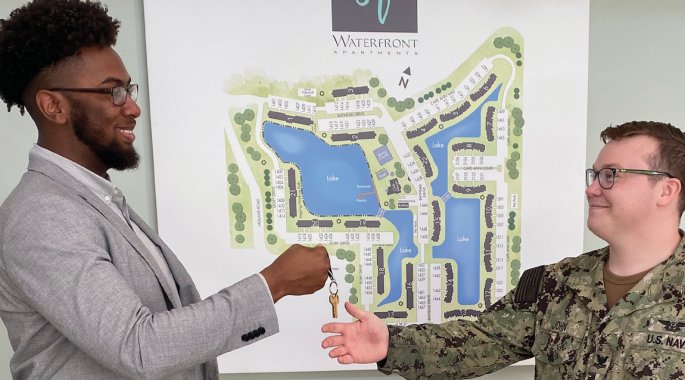 Hayes, a property management student at Virginia Tech and a summer intern for Edward Rose & Sons, offers a look at how students of the RPM discipline begin their onsite experience in the industry and how classroom and real-world experience mesh to create a successful professional.
An internship is a term that many, if not all, students learn about on arrival at their college, if not before they matriculate. For property management majors at Virginia Tech, completing an internship is a requirement to successfully graduate. My property management courses so far have covered topics ranging from introductory, such as the general goals of property management, to more advanced courses that explore resident relations and fair housing laws.
I had a general idea of what property management was, and I was ready for a hands-on experience to implement the coursework. During the spring semester each year, Virginia Tech hosts a Property Management Career Fair. Held virtually in 2021, companies from across the country participated in interviews with students majoring in property management, business and real estate. During the spring Career Fair, I met with representatives from Edward Rose & Sons, leading to accepting a summer position as an intern at Waterfront Apartments in Virginia Beach, Va.
A major component of compensation for the position was a fully furnished, one-bedroom apartment located onsite at Waterfront. This was very new to me for two reasons: It was my very first apartment on my own and I did not expect a benefit this significant to accompany the internship. While it is well known that internships are the bridge between an industry and the post-secondary education curriculum, it was still hard to determine what this type of internship would look like in relation to the property management field.
Beginning the Internship
Akin to any first day on the job, mine was filled with onboarding and training from my Property Manager, Jessica Arzillo, CAM, about the policies and practices of Edward Rose & Sons. The timing of the start of my internship was unusual, since my very first week coincided with the celebration of the 100th anniversary of the company. The celebration took place at a sister property, Trophy Club, in Midlothian, Va. Because recruitment was virtual this year, this was a great first networking opportunity as I had the chance to interact with associates from maintenance, leasing and management of several properties in the region. I was also able to meet regional managers, members of senior leadership and company executives. I knew that this would be a fast-paced experience, but I did not expect to make numerous connections in just the first few days alone!
Initial Training
It was now time to begin the actual work of the internship. In my opinion, the first step to being a property manager is to truly understand your property; what better way to do that than to start from the ground up? Working primarily as a leasing professional, I gained great insight into how different processes run both in and out of the office, including interactions with residents. To prepare for my role as the first point of contact for prospective residents, my first task was to review the procedures regarding prospective tours and the general tour paths to follow when conducting a tour.
During this period of training, a current leasing professional was designated as my leasing supervisor to assist me in this process; this involved shadowing them on as many tours as possible to develop a rhythm as to how tours are conducted. Some of my key takeaways from this phase were the importance of good eye contact, posture, knowledge of the site and confidence in the information being presented. The first three weeks of the training, during which we became familiar with our properties and the leasing process, served as preparation for the next phase of training: Sales Symposium. 
Sales Symposium
The Carmel, Ind., division of Edward Rose & Sons hosts a Sales Symposium for new leasing associates; because the interns are fully functioning team members for the summer, we were on our way to the training, too. Sales Symposium is led by the Director of Marketing, Brenda Coons, who is also a member of the NAAEI Faculty. This training session was a highlight of the summer, and I highly recommend it for other companies who offer internships!
Associates who were traveling to Indiana from properties in Virginia and North Carolina had the opportunity to ride in one of the company's jets, and being able to ride privately and have transportation provided in Indiana made me feel the company truly cares about its employees. During the week, we were tasked with completing several training scenarios, exercises and lessons to hone our leasing abilities and knowledge of our respective properties.
Upon completion, I felt as if every note that was taken during the first few weeks of the internship was now perfectly drilled into my head. Successfully completing mock leasing tours, telephone calls and learning the history of the company played a huge role in not just the development of my skills in this company, but in property management in general.
Taking Action
Following training, I was ready for solo leasing tours! Because the training was so thorough, I felt very confident that I was ready to take prospects on a tour on my own. My first tour was with a prospective resident who was interested in leasing my very own apartment that I was living in. The apartment became available since my move-out date was already established in advance. Since I had experience with this specific apartment home, I had great confidence to walk her through the amenities and provide much more detail about what it is like living in this specific floorplan. To top off an amazing tour, the prospective resident decided to apply for that very unit the same day! Coming from the Sales Symposium in Indiana to obtaining my very first lease onsite is a testament to the unique training that is offered through this company. In total, I conducted 21 tours onsite this summer and captured 15 applications, with 10 ultimately approved for move-ins. Seeing the measureable amount of progress in terms of the number of leases and tours helped me better understand the quality of training that was provided to me. New hires are taught at a very high skill level, which we were able to take back to our properties to immediately contribute and create value. That feeling of having the training pay off was an experience that a classroom setting could not really transmit to me; it was something that had to be experienced for it to feel rewarding! That is truly what makes the internship an enhancement to the college courses.
In addition to the sales and office aspects of the internship, I was directed to spend a rotation with the maintenance team. I began the maintenance day by working with a technician to maintain the grounds around designated buildings. This included picking up trash on our walking paths and addressing any issues we identified. We moved on to clearing and cleaning the entryways of the buildings. I cleared any debris, pests, webs or dirt in the walkways and stairs leading into the apartment buildings. We were now ready to address service requests. My partner already had a list, so we started by figuring out where a leak was coming from in a building. Working from the top down, we inspected the top floor's water pipes and lines to track if the possible leak began from above rather than below. After some investigation, we determined that the leak must have started on the first floor. We proceeded with appropriate action steps.
The rest of the day was filled with smaller tasks that included repairing fridge doors, icemakers, broken shelves and many other appliances that residents use. It gave me a great insight as to what happens behind the scenes after the office puts in that service request. Once we enter it in the system or radio the maintenance technicians, we then have no other control or input as to what happens next with completion. I was satisfied in seeing just how all of these service requests were handled and how they connected with the office's side of operation.
Marketing Week
Later in the summer, the entire team of interns reported back to the Indiana office for a week of marketing activities, once again led by Coons. The six interns were divided into two teams and assigned different tasks for future developments for the company. Team A was tasked with naming two new properties being built and the naming of two street names for the company. Team B was tasked with creating a marketing plan for advertising the company slogan both internally (to employees) and externally (to new residents/prospects). Team B was also assigned a marketing plan for a new property being built in Brandon, Fla., as well as evaluation of the current marketing strategies for this new asset and a new asset in the Richmond, Va., market.
The week began with an entire day dedicated to brainstorming. We established the groundwork for the internal and external marketing plans; we had some difficulty determining how we would create the marketing plan for the new asset, but with enough brainstorming, we were confident we would reach a deliverable result by Friday. On the second day, we also had the opportunity to attend a networking dinner with company executives as well as intern alumni who are still working for the company. The week was then filled with analyzing the current campaigns, creating different prototype logos, recording mock interviews and many other marketing ideas to get the presentation organized and ready. We rehearsed with the other team and shared feedback to help us prepare for our presentation in front of the division's President, Director of Property Management, Director of Marketing, three Regional Property Managers, and the Internship Coordinator (no pressure, right?).
At presentation time, there was a sense of excitement and anxiety in the air as both teams went up to put our marketing efforts on display in front of the audience. Presentation slides, logo proposals, videos and speeches consumed the next hour as we made our pitches. There were varied reactions from smiles, nods, to claps, so it gave us the confidence that this week went amazingly well. We fielded a
question-and-answer session and were then given a warm sendoff and informed that we will be updated on the status of our projects being implemented for future developments.
Going Forward
Hosting an internship at your company or property is a great way to enhance both the property itself and the educational experiences of the interns involved. The experience this summer allowed me to combine the knowledge I have obtained as a Virginia Tech property management student with a hands-on experience at Waterfront Apartments through Edward Rose & Sons.
When I return to campus this fall, I will approach my courses with extensive background knowledge on the topics such as the operations of a property, maintenance procedures, and resident relations. Working with Edward Rose & Sons has allowed me to think far into the future of my career plans upon graduation, including the criteria I will look for when deciding to accept an employment offer. If your company is considering hosting an internship experience, or if you are an individual seeking gain experience in the property management industry through an internship, then the short answer is a definite yes!
Maximizing the ROI of an Internship Program
By Sarah Rentschler, CAM, CALP, IROP
As the Internship Coordinator for the Carmel division of Edward Rose & Sons, I leverage my experience as a property management practitioner, corporate educator and former university instructor to facilitate the achievement and advancement of each intern's individual professional development goals as they strive to connect academic experience with the operations environment. As a vital part of this effort, I ensure that interns are provided meaningful work, which leads to a productive ROI for the company. My primary responsibilities include:
Recruitment assistance (with the support of Regional Property Managers, Property Managers and Managers-in-Training as frequent co-interviewers)
Program orientation and offboarding (maintaining contact after the program)
Program administration and oversight of the internship experience and assignments
Liaison for university supervisors (students often need to meet requirements that are unique to their major, department and/or university)
While the actual internship generally occurs in the summer months, activities associated with a successful program occur year-round.
Approximate Timeline/Key Events
July/August: Finalize planning for the following year's program (including recruitment strategies & materials, program outline & compensation, proposed host sites and leaders); source, register and prepare for fall recruitment events
September: Fall recruitment events on campus; may include additional interviews/recruitment; may lead to "Early Decision" commitments from students
October through January: Recruitment may continue through online postings; source, register and prepare for spring recruitment events
February through March: Spring recruitment events occur on campus; allow time for additional interviews/recruitment; target extension of offers to all students by spring break whenever possible
April: Conclude recruitment; finalize placements; initiate new hire and move-in logistics
May – July: Host the internship
For companies that are looking to attract top talent, an internship program can be a great path to explore. Top tips for success include:
Designate a coordinator as the "architect" of the program. This individual will usually be the nexus between onsite host teams, company leadership, students and university representatives. While not generally a full-time role, this commitment will require year-round activities with seasonal fluctuations of higher demand.
The program should be an ongoing conversation between onsite host teams, company leadership, students and university representatives continually seeking to balance the needs of each party. Form goals for the internship as a team, consistently evaluate progress and change course as needed. Involve as many associates as possible in as many roles as possible. While the interns will have significant onsite mentorship, they always appreciate additional connections with offsite mentors.
Provide opportunities for collaboration with host site teams and the group of interns (if hosting more than one intern).
Establish performance goals and expectations and offer the chance to make real contributions to your company's bottom line. Students who are given a realistic preview of the work are best positioned to make informed decisions about future employment with your team. Interns are exceptionally qualified with unique perspectives and creative ideas!
Implement a balance of formal and informal learning: Consider online training, on-the-job training, classroom sessions, project work and reflection assignments/journaling. Provide exposure to a variety of roles: Leasing, maintenance, management and corporate-level. Allow enough time for the interns to perform tasks in a role instead of shadowing only.
Due to the nature of the role, interns are often capable of completing tasks quicker than we expect – quicker than our full-time associates who might be balancing multiple roles. Prepare backup assignments for your interns, so they always know "what's next" or what to do if there is (a perception of) "down time."
Collect feedback from all parties at multiple points (company leadership, onsite host teams, the interns and university contacts). Our interns submit a weekly report and complete a bi-weekly anonymous survey. Incorporate multiple touchpoints to evaluate the efficacy of your program, review those results in a timely manner and make immediate corrections where needed. In a program that lasts between 8-11 weeks, there is no room for a "bad week."
Cultivate relationships with universities that offer a real estate program (or better yet – a major specifically tailored to residential property management). You might also consider parallel skill sets and majors: Hospitality/tourism, general business majors, sales/marketing, etc. If hiring outside of a real estate/RPM major, be prepared to give a "crash course" in property management jargon, goals and daily operations and adjust your performance expectations to that learning curve.
Be prepared to be amazed by the contributions your interns will make to your company. From leasing results (one previous intern captured 32 move-ins during 8 weeks onsite) to contributions on marketing projects, service projects, event planning and more – these students offer limitless potential for a solid ROI based on your goals.
By Angellee Hayes