LEADERSHIP LYCEUM
A program to train future leaders to serve the apartment industry!

With a focus on preparing apartment professionals for AASC volunteer leadership roles and career advancement, the AASC Leadership Lyceum continues along its valuable path. Launched in 2011, this 4-day leadership development program is designed to identify, empower and inform successive waves of AASC volunteer leaders. Candidates are nominated to participate by the staff of the Association or a Board Member.
If you are interested in this program, reach out to an AASC Board Member or e-mail laura@aaschq.org.
PAST GRADUATES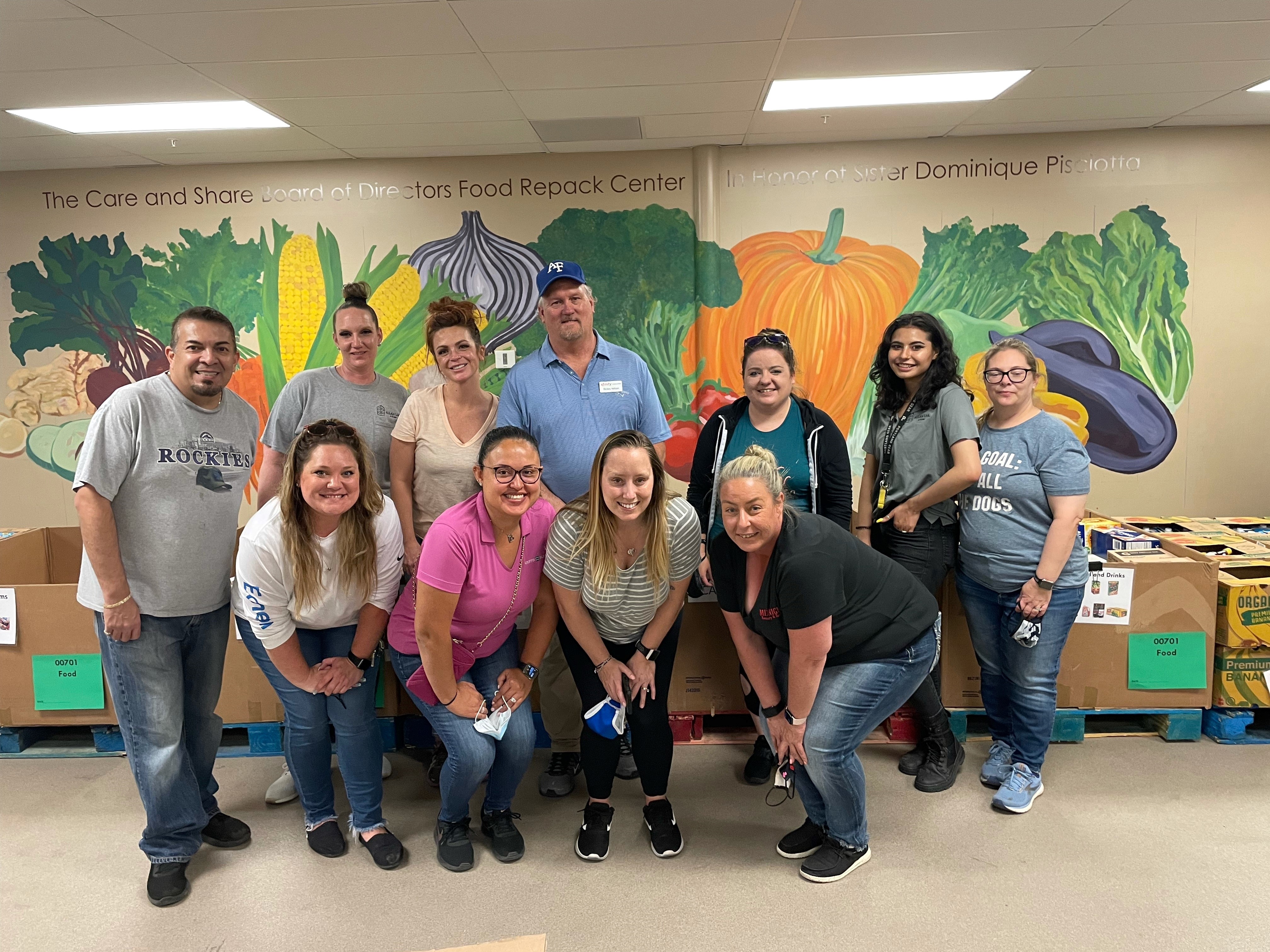 2021 Leadership Lyceum Class Volunteering with Care & Share
(Back row from left to right) Daryl Armijo, Cathleen Welch, Jen Fach, Rickey Nelson, April Allen, Kamehalani Manco & Tracey Dumol (Front row from left to right) Ashley Bickimer, Maria Gallego, Julia Ramirez & Chanine Courts
Volunteer Day with Partners in Housing
(Back row from left to right) Craig Kallian, Jonathan Zama, Ryan Somers, Monika Randall (Middle row from left to right) Steve Ramsey, Stephanie Richardson, Samantha Hauser, Christa Martin, Michael Sanchez (Front row from left to right) Tracy Anthis, Troy Uehling, & Maria Lorio
(Left to Right) Brian Staples, Dustin Halcomb, Tina Lloyd, Simone Robinson, Mandy Reger, Jennifer Ruth, Crystal Granillo, Anna Jensen, Aubrey Bury, Bryan Jeffords, Alisa Martinez, & Lori Snider (speaker)
(Left to Right) Reed Rice, Karyn Del'Pontone, Ashley Mueller, Connie Palacios, Dana Lowry (President), Stela Coffelt, Kimberlie O'Donnell, & Lorinda Bodman
(Left to Right) Julie Romeo, Kassandra Ranck, Bridgette Allen, Jodi Barkley, Lara Cartagena, Ryan VanAcker, Anna Gemienhardt, Christine Hatter, Sandy Thrash (President), Jennifer Case, Hope Ivory, Jack Krayniak, Irving Lopez-Gallarza, Cami Waldier-Burgess & Natalie Spencer
(Back Row from left to right) Jamie McNallie, Jen Walters, Keith Pierce, Shun Cameron, Coy Ranor, Steve Robinson (Middle Row from left to right) Christina Musell, Collin Knopp, Shakeema Ridore, Tina Luck, Brenda Gordon, Sandy Thrash (President), Juli Berg, Christian Lautner, Beckie Mellen, & Viridiana Young
(Left to Right) Tina Luck, Diana Davis, Crystal White, Alyssa Martin, Michael Malone, James Hallaway, John Merlino, Lisa Wease, Candice Kennedy, Sonja Hettle, Jessica Lawson & Charla Custis
(Left to Right) Vicki Schwindt, Amber Schultz, Stacey Kontry, Sandy Thrash, Marga Field & Nicole Gose
(Left to Right) Joslin Hobart, Cycely McMillan, Kris Goraczowski, Trivonda Smith, Hannah Delagardelle, Jill Gaebler (City Council), Robert Carr, Jack Foster, Diana Diaz-Guerrelo & Matthew Pacheco