Back to Events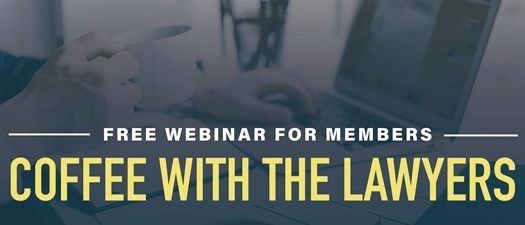 Coffee with the Lawyers (August)
Bring a cup of coffee and your questions to ask the lawyers
Friday, August 5, 2022
Zoom (Link in the confirmation email)
Event Details
We are proud to present a live Q&A opportunity with local attorneys. This is a CAA / AASC member-only event and is free of charge! Non-members interested in becoming a member of AASC are welcome to attend.
Everything is changing so fast it can be hard to keep up, especially in the Multifamily Industry. The CAA has put together a panel of experts to help address those burning questions you've been trying to get answered. Industry experts Debbie Wilson, Vic Sulzer, and Drew Hamrick will be online and ready to help you navigate the current times.
---
PRESENTERS:
DREW HAMRICK
COLORADO APARTMENT
ASSOCIATION

DEBBIE WILSON
SPRINGMAN BRADEN
WILSON PONTIUS, PC

VIC SULZER
TSCHETTER
SULZER, PC
THIS WEBINAR IS A FREE EVENT FOR AASC MEMBERS!
Non-Member Price: $45
---
how to register:
Click on the "Register Now" button at the top of this page.
This will take you to the Colorado Apartment Association page (this is correct).
Click on "Register Now" on the right-hand side of the page.
Under Login, you will see "OR... USE AASC LOGIN"
Click this button to log in using the same information you would on the AASC website.
In the confirmation email, you will receive your log-in credentials.
---
FOR MORE INFORMATION
Monika Randall
monika@aaschq.org l 719-264-9195 ex.1