Back to Events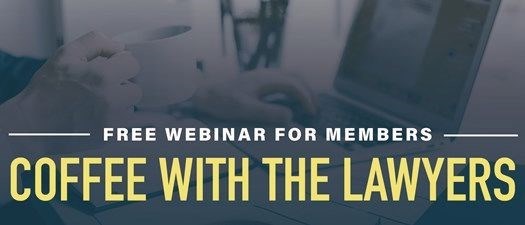 Coffee with the Lawyers (April)
Bring a cup of coffee and your questions to ask the lawyers
Friday, April 9, 2021
ZOOM (CLICK HERE TO JOIN)
Event Details
We are proud to present a live Q&A opportunity with local attorneys. This is a CAA / AASC member only event and is free of charge! Non-members interested in becoming a member of AASC are welcome to attend.
Everything is changing so fast it can be hard to keep up, especially in the Mulitfamily Industry. The CAA has put together a panel of experts to help address those burning questions you've been trying to get answered. Industry experts Debbie Wilson, Vic Sulzer and Drew Hamrick will be online and ready to help you navigate the current times.
Topics Might Include:
How to successfully manuever through the eviction moratorium
How to document rent restructures.
Are PPP (payment Protection Program) loans for me?
Duty to notify residents of known flu.
Ability to move and show units.
Limitations on evictions.
Service of rent demands.
PRESENTERS:
DREW HAMRICK
CAA/AAMD
DEBBIE WILSON
SPRINGMAN BRADEN
WILSON PONTIUS, PC

VIC SULZER
TSCHETTER
SULZER, PC
THIS WEBINAR IS A FREE EVENT FOR AASC MEMBERS!
Non-Member Price: $45
---
SPONSORSHIPS
FEATURED SPONSOR: $249
Have your company's logo featured on the virtual background behind the panelists and receive mic time in the middle of the webinar.
Discount for five or more sponsorships available. Email April at april@aaschq.org to inquire.
---
FOR MORE INFORMATION
April Allen
april@aaschq.org l 719-264-9195 ex.104