Back to Events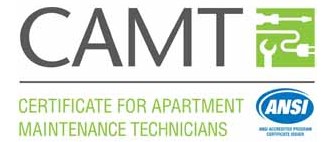 2024 Certificate for Apartment Maintenance Technicians (CAMT)
Be a jack-of-all-trades and a master of maintenance.
Monday, January 8, 2024
at
9:00 AM (MST)
to Friday, January 12, 2024 at 4:00 PM (MST)
Event Details
THE CERTIFICATION FOR APARTMENT MAINTENANCE TECHNICIANS (CAMT) WILL BE TAKING PLACE IN PERSON!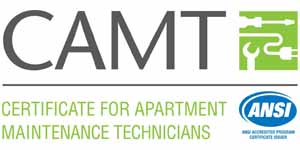 NAAEI has developed the Certificate for Apartment Maintenance Technicians training curriculum and the subsequent exam to help apartment maintenance professionals obtain a better knowledge of their roles and responsibilities and to prepare them to obtain the CAMT. The main purpose of CAMT is to prepare participants to effectively maintain, preserve, and enhance the physical assets of the property safely and efficiently, consistent with the objectives of property ownership and in compliance with federal, state, and local law. The CAMT curriculum is based on the Skill Standards and ultimately prepares participants for the CAMT exam as well as for fulfilling their role in the field. The Skill Standards guide the participants toward the CAMT's intended learning objectives.
Earning your Certificate for Apartment Maintenance Technicians (CAMT) validates your knowledge, enhances your reputation and credibility, boosts your confidence, and earns you respect.
The CAMT program is accredited by the American National Standards Institute (ANSI), a private non-profit organization that administers and coordinates the U.S. voluntary standardization and conformity assessment system.
This course is highly recommended for maintenance supervisors and technicians, porters, housekeepers, and groundskeepers who are interested in advancing their careers by earning a nationally recognized certificate.
To obtain the CAMT credential, candidates must complete the following:
Minimum of 12 months of apartment or rental housing maintenance experience. (This can be obtained while taking the course, you will receive a provisional certificate until this requirement is met.)
Successful completion of all CAMT coursework and practice scenarios
Pass the examination
For More Information: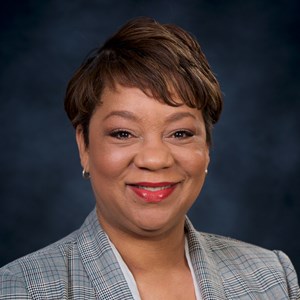 Monika Randall
Director of Education & Events
Apartment Association of Southern Colorado
CAMT Credential Pricing:
$1050 - Member Registration

Includes CAMT textbook for all CAMT Modules and the online exam

$1229 - Non-Member Registration

Includes CAMT textbook for all CAMT Modules and the online exam
DECEMBER 31, 2023 - PRICE INCREASES
PROGRAM DETAILS
Program includes three parts:
Part 1: Seven online self-paced courses plus practical scenarios
Part 2: Three 7-hour instructor-led learning sessions - Monday, Jan. 8th-Wednesday, Jan. 10th 2024 (9am - 4pm)
Part 3: Two 7-hour instructor-led practical application sessions - Thursday, Jan. 11th-Friday, Jan 12th, 2024 (9am - 4pm)
A MINIMUM OF 10 STUDENTS MUST BE REGISTERED OR THE PROGRAM IS SUBJECT TO CANCELLATION
Education Policy
MEMBER PRICING & CANCELLATION POLICY
To receive member rate for this seminar, you must be logged in. To receive your log-in credentials, please call 719.264.9195. To view AASC's education cancellation policy, please click here.
AUDIO/VIDEO RELEASE
By registering for this event, AASC is permitted to reproduce photographs/video footage featuring your image in AASC's promotional publications.
FOR MORE INFORMATION
Monika Randall
monika@aaschq.org I 719-264-9195 ext. 103