Back to Events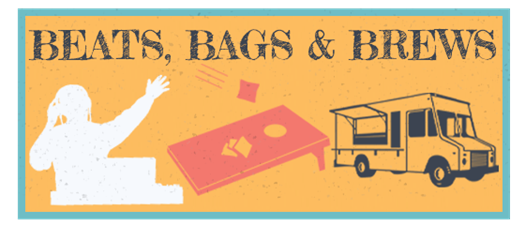 Beats, Bags & Brews
You are not going to want to miss this brand new AASC event!
Wednesday, August 25, 2021
* Registration open until 8/20/21 at 11:59 PM (MDT)
Event Details
Join us for the first-ever Beats, Bags & Brews event at FH Beerworks!
We are so excited to be back together in person and we want to celebrate with all of our members! At this event, you can enjoy a food truck, beer, DJ, and participate in the BEST CORNAMENT IN COLORADO SPRINGS!
---
AGENDA -
2 PM - Registration Opens
2:30 PM - CORNAMENT BEGINS & DJ
5:30 PM - Awards & Giveaways

For those not participating in the Cornament, there will be life-size games, sponsor tables/giveaways, food, drinks & music!
---
CORNAMENT RULES - 
The tournament is a single-elimination format.
Point System: The score-to-win is 21
Game Play:

In doubles play, each partner stands at opposite cornhole boards on the same side of the board.
All 8 cornhole bags begin at one end.
A cornhole player may throw from anywhere behind the front of the cornhole board.
Alternate throws between the two opponents until all 8 cornhole bags have been thrown.

Points:


3 points - Cornhole bag that goes completely through the hole
1 point - Cornhole bag that lands on the board
1 point - Cornhole bag that is hanging into the hole
1 point - Cornhole bag that is hanging off the board, but not touching the ground.
0 points - Cornhole bag that is on the playing surface, but also touching the ground.
Presenting Sponsor
Platinum Sponsor

cornament station sponsors

Drink SponsorS

Midnight Recovery Towing
All American Mechanical
Alternative Resurfacing
Xfinity Communities
Bug's Towing
Rockin L' Roof Coatings
Dynamic Renovation Contractors

Arbor Contract Carpet
Apartments.com
Moen

FOOD TRUCK SPONSORS

DJ SPONSORS

AZ Partsmaster
Elevator Technicians
DK Konstruction

Apartments.com
LeaseLock

photography Sponsor

Heritage Trash
INTERESTED IN SPONSORING!?
CLICK HERE TO DOWNLOAD THE CONTRACT
---
FOR MORE INFORMATION
April Allen
april@aaschq.org l 719-264-9195 ex.104